Custom Graduation Yard Signs
2023 Custom Graduation Yard Signs Now Available!
What types of graduation yard signs will I receive?
VIPdecals uses high-quality white corrugated plastic that is weatherproof & fade resistant for our yard signs. Each one is the standard size you often see: 24" x 18".
The price per sign for our custom graduation sign is $25 for a single-sided personalized sign and $35 for double-sided. Each sign includes a metal stand.
Why should my school partner with VIPdecals?
Our signs are now a tradition that everyone looks forward to seeing displayed in the community.  Promotion to fundraise can be done through the Administration or a group within the school, the senior class, for example.
What does my school have to do to fundraise?
Get the word out! VIPdecals will provide your school's contact person with a flyer to promote the signs to fundraise for your school. You can post the flyer on your senior page, social media, emails, texts, meetings or any other place you communicate with parents to direct them here to our site to place their order.
This is the most important part of fundraising for your school.  The more parents that know about the signs, the more orders and the more money your school makes!
What's the $$ deal? How can I fundraise with graduation yard signs?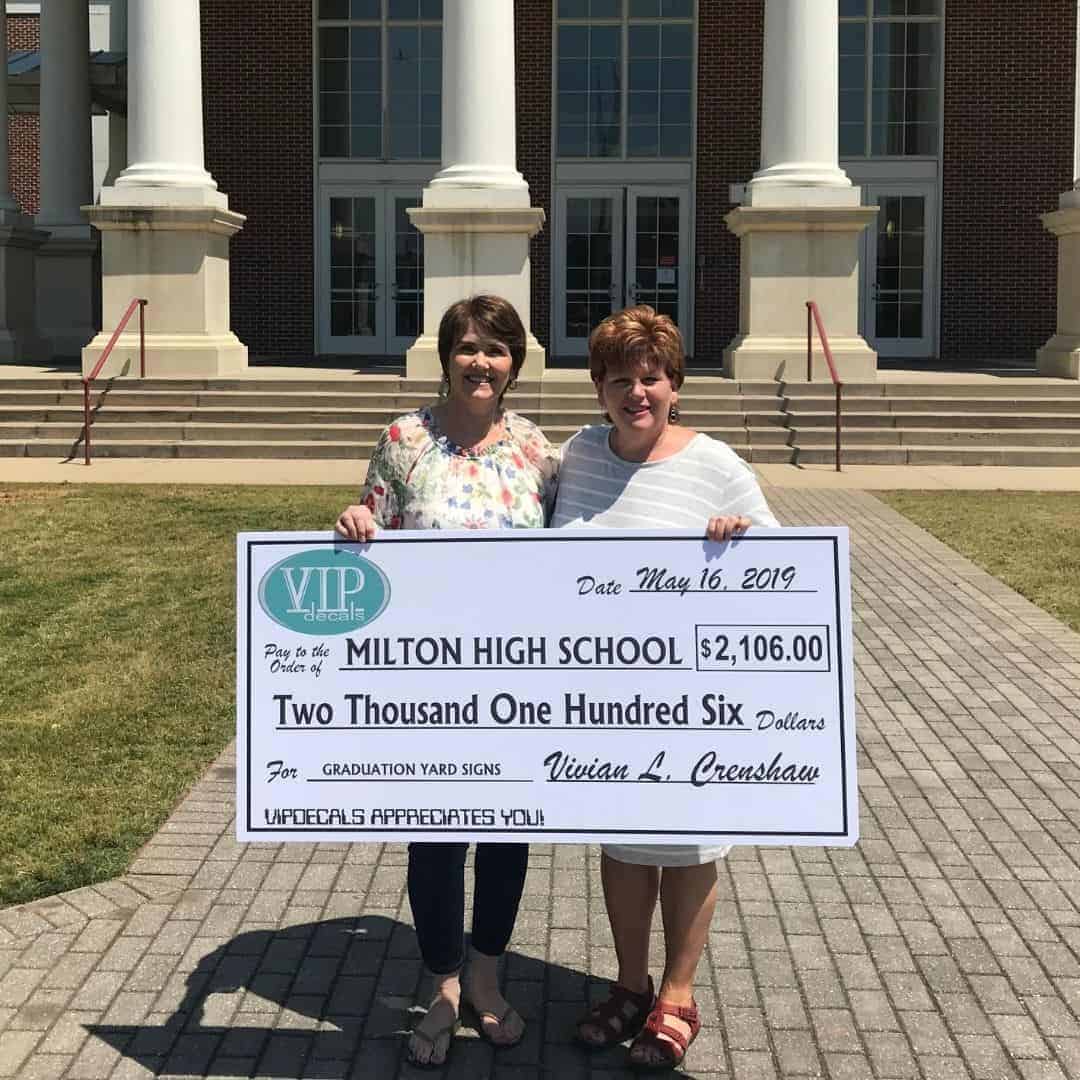 VIPdecals will pay your school $5 for each sign sold.
Our top school in 2021 received a check for over $2,000!
We simply need a contact person who will promote the signs by directing parents to our website to order.  This person will also handle the distribution of the FREE bulk shipments to your school.
We will keep you updated on sales along the way.
Questions? Want to partner with VIPdecals and fundraise for your school? Contact us today!
Vivian Crenshaw, owner, Georgia contact: [email protected]
Anne Riley Smith, South Carolina and North Carolina contact: 678-591-3597
VIP Decals is an excellent company to work with. Their products are top-notch and the customer service is over-the-top! We've been doing business with VIP Decals for over 10 years and have never once been disappointed in their services. I highly recommend VIP Decals!
Jackie Angel
Google Review
VIPdecals is THE GREATEST!!! The sign I ordered was beautiful, and the service from Anne Smith was superb. I will never go anywhere else for my graduation sign needs again. Highly recommend to anyone looking for graduation signs!
Marty Farrell
Google Review
Need some design inspiration? Check out signs from some happy customers: